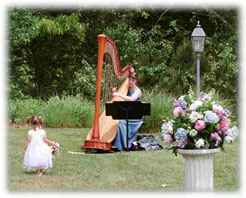 If you're looking for music for a special event, then look no further than the elegance, versatility, and experience of harpist and vocalist, Katie Lynch Koglin.
The harp is the perfect instrument for a romantic wedding or elegant dinner party. Add an extra special touch to a reception, holiday party or corporate meeting for two hundred or an intimate dinner for two for a proposal or anniversary.
A Cape Cod local, Katie plays the harp from Woods Hole to Provincetown to Boston. She may be seen at venues including Wychmere Harbor Club, Wequassett Inn, Chatham Bars Inn, Captain Linnell House, Coonamessett Inn, Sea Crest Resort, Boston Museum of Fine Art, Cape Cod Museum of Art, Highfield Hall, Eastward Ho! Country Club, Willowbend, the Brookside Club, Wianno Club, Dan'l Webster Inn, and many churches. Katie is also available for performances for schools, healthcare facilities and non-profit groups.
Katie is a NotWedding Vendor:
As seen at the 2013 Cape Cod NotWedding.

CD Release: Amid the Winter Snow is now available!
The Illumine Trio brings together the glorious sounds of trumpet, soprano, and harp in beautifully crafted arrangements. This wonderful album brings some of the world's favorite Christmas Carols together in beautifully crafted arrangements featuring the unique combination of the Illumine Trio: Christopher O'Hara (trumpet), Sarah Moyer (soprano), Katie Lynch Koglin (harp). This album will quickly become your soundtrack for the holiday season!
CD's are $20 each, and a portion of the proceeds of cd's purchased from Katie will benefit St. Jude's and the MSPCA.
Please contact Katie for a CD. (Cash and check accepted.)

Highfield Hall
Harp music for the annual Member's Preview of Holidays at Highfield
Tues, Nov 24, 4-6pm (members only)

Dennis Garden Club
Tues, Dec 1st
(private)

Barnstable Village Holiday Stroll
Wednesday, Dec 2, 6-8pm
Harp music and caroling at Barnstable Comedy Club
Free and open to the public!
CD's available at this event.

Centerville Holiday Stroll
Sunday, Dec 6th, 3-6pm
Harp music at the Centerville Library
Free and open to the public!
CD's available at this event.

Carols and Lullabies
Conrad Sousa's work for choir, harp, guitar and marimba
With the UMass Dartmouth Choir
Thurs, Dec 10 at 7:30pm
Unitarian Church of New Bedford
71 8th Street, New Bedford, MA
Fri, Dec 11, tba
A sample from 2011: https://www.youtube.com/watch?v=1Smc5nKnDfQ

Highfield Ball
Sat, Dec 12 at 7pm
Katie will be leading the carol sing-along with pianist, Robert Wyatt
Tickets: $145
http://highfieldhallandgardens.org/event/highfield-hall-holiday-ball/

New Bedford Symphony Orchestra
Harp for the Family Holiday Pops!
Sat, Dec 19th at 3:30 & 7pm
http://www.nbsymphony.org/family-holiday-pops-2015.html

---

News Articles

Katie was a featured model in Cape Magazines photography spread, "Glamour of Another Era," April 2013 - photography by Frank & Helen Coombs, You Ought to be in Pictures




Cape Business Magazine:
Profile of women working on Cape Cod, including Katie!

Cape Cod Times Review

Cape Museum of Art: An Oasis of Music and Art
By MARILYN J. ROWLAND

"This had better be good," warned my friend Marilyn Brice, who shares not only my first name, but also my love of flute music, as she got into my car for a trip out to Dennis to see "The Song of the Lark" at the Cape Cod Museum of Art. Last Sunday afternoon's performance featured Somerville flutist Laura Smolowitz and Cotuit harpist Katie Lynch Koglin. <Read More>

Below is Katie's interview with the Cape Cod Times.
Watch to learn a little about the harp and hear Katie play!