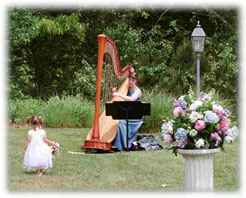 If you're looking for music for a special event, then look no further than the elegance, versatility, and experience of harpist, Katie Lynch Koglin.
The harp is the perfect instrument for a romantic wedding or elegant dinner party. Add an extra special touch to a reception, holiday party or corporate meeting for two hundred or an intimate dinner for two for a proposal or anniversary.
A Cape Cod local, Katie plays the harp from Woods Hole to Provincetown to Boston. She may be seen at venues including Wychmere Harbor Club, Wequassett Inn, Chatham Bars Inn, Captain Linnell House, Coonamessett Inn, Sea Crest Resort, Boston Museum of Fine Art, Cape Cod Museum of Art, Highfield Hall, Eastward Ho! Country Club, Willowbend, the Brookside Club, Wianno Club, Dan'l Webster Inn, and many churches. Katie is also available for performances for schools, healthcare facilities and non-profit groups.
Bridal Show
Presented by the Cape and Island Wedding Group
Sunday, Feb 10th
12 to 3pm
At the New Seabury Country Club
Tickets: $15 per person
http://www.capeandislandsweddinggroup.com/?page_id=356

A Grand Night for Singing
A Rodgers and Hammerstein review
Director: Melinda Gallant
Music Director: Henry Buck
Choreography: Melissa Morin
Cotuit Center for the Arts, Rt 28
Feb 14 - March 3
Thurs, Fri & Sat at 8pm
Sun at 2pm
Open seating
Tickets: $25 general, $15 students, $20 members, $22 seniors
Box Office: 508-428-0669
http://cotuitarts.org/index.php/2012/12/a-grand-night-for-singing-music-of-rodgers-hammerstein/
(Katie: harp)

Into the Woods
A fairy tale musical by Stephen Sondheim
Director: Corinne Minshall
Music Director: Katie Lynch Koglin
Presented by the Blue Falcon Theatre Company of
Mashpee High School
March 15 - 17

---

Church Services
Our Lady of the Assumption, Osterville:
Cantor & Children's Choir Director
Most 8:30 and some 10:30am Sunday Masses

Christian Science Church, Hyannis
Soloist: Some 10:30am Sunday services

---

News Articles


Cape Business Magazine:
Profile of women working on Cape Cod, including Katie!

Cape Cod Times Review

Cape Museum of Art: An Oasis of Music and Art
By MARILYN J. ROWLAND

"This had better be good," warned my friend Marilyn Brice, who shares not only my first name, but also my love of flute music, as she got into my car for a trip out to Dennis to see "The Song of the Lark" at the Cape Cod Museum of Art. Last Sunday afternoon's performance featured Somerville flutist Laura Smolowitz and Cotuit harpist Katie Lynch Koglin. <Read More>

Below is Katie's interview with the Cape Cod Times.
Watch to learn a little about the harp and hear Katie play!