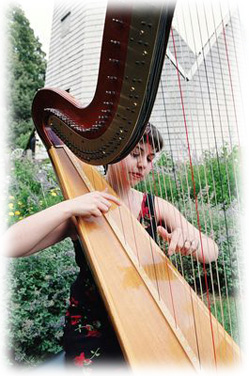 "Mommy, Daddy, I want to play the harp!"
Has your child said this? Or perhaps it's you who's always wanted to play the harp?
Katie teaches harp privately at her home in Cotuit. All ages and levels are welcome.
Katie co-directed the Boston Urban Harp Pilot Program (2002-03) at the Roland Hayes School of Music in Roxbury, MA with harpists Lois Francello and Cynthia Price Glynn.
As a music director, Katie directs the children's choir at Our Lady of the Assumption in Osterville and the spring musical with the Blue Falcon Theatre Company at Mashpee High School including The Pajama Game and Oliver! (vocals, orchestra & co-choreographer).
Link to "Types of Harps" and "Sites for the Harpist"