Katie's been a performer her whole life. From starting dance at age four to performing regularly on stage in musicals. She studied voice with classical and cabaret singer Grace O'Connor.  She's a church soloist at the Christian Science Church of Hyannis, Our Lady of the Assumption in Osterville and Our Lady of Victory in Centerville for regular church services, weddings and funerals.  Katie has also been a guest soloist singing the National Anthem for the Barnstable County court system for several years.

Katie is available to sing or sing and play harp for weddings or funerals.

What critics have said . . .
"Katie Lynch Koglin . . . is both a graceful dancer and a beautiful soprano. She deserves the name 'goddess' that Stone bestows upon her." – Emily J. Meier, The Barnstable Patriot

"Sung in strong clear voice, Lynch's perfect pitch and outstanding diction are especially important, because she is the backbone of this Biblical story . . . the show (is) held together by Lynch's narration." – Gwenn Friss, Cape Cod Times

"Of all the sisters, Meg (Katie Lynch Koglin) pursues the most traditional domestic lifestyle, and Koglin really does seem the perfect "little woman," with appealing dollops of spunk and humor. " – Cindy Nickerson, Cape Cod Times

"(Lynch takes) command of the stage." – Alicia Blaisdell-Bannon, Cape Cod Times

"Katie Lynch Koglin, as talented as she is irresistibly attractive as Rosemary Pilkington, the cutie who sets her sights on Finch, couldn't be better. There is real chemistry between this young married couple." – Frank Gibson, The Register
"
Katie Lynch Koglin is simply a charmer as the sweethearted Rosemary. The perky actress is a nice counterbalance to her husband. The couple have built in chemistry." – Johanna Crosby, Cape Cod Times

"You get to watch the formidable comic talent of Katie Lynch Koglin" – Ellen C. Chahey, The Barnstable Patriot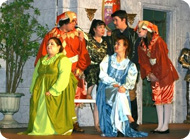 "You can see a bit of Carol Burnett in the way Ms. Koglin uses her voice, but mostly Ms. Koglin creates her own character here, vocalizes beautifully – whether she is singing the amusing and wistful "Happily Ever After," the comical "Swamps of Home," or belting out the raucous "Shy" – and clowns masterfully, especially as she tries, fitfully, to get to sleep on top of her bed of 20 mattresses. It's easy to see, despite her awkward arrival (she swam the moat!) and general boisterousness, why the prince is smitten with her." – Marilyn J. Rowland, The Barnstable Enterprise
"Katie Lynch Koglin is perfectly cast…The animated actress exudes a charming, impish quality. She's armed with wonderful comic skills, a terrific singing voice and dancing ability to boot. Koglin delivers a delightful rendition of "Happily Ever After." Her wiry maneuvers to get comfortable in the big bed and drift off to slumber land are hilarious." – Johanna Crosby,Cape Cod Times

"Koglin is the perfect girl next door. She has one of those acting faces that would show what she's feeling even if she didn't say a word. It's not only the cute dimples, it's the way her face is in constant motion. She's prettier, but reminds one of Monica Horan…on "Everybody Loves Raymond"." – Gwenn Friss, Cape Cod Times
"Miss Wylie…(is) played by Lynch as a high-energy, beaming upstart . . . Her energy on stage is ebullient, animated and infectious." – Bethany Gibbons, Barnstable Patriot
"Talented Katie Lynch portrays an enchanted teapot, aptly named, Mrs. Potts, as a lively lass, motherly toward her little teacup child, Chip, but sassy and headstrong, too. Lynch, who sings the signature song, "Beauty and the Beast," maintains a beautifully textured and highly polished performance throughout the show." – Carol McManus, The Cape Codder

"Th
e title song, sung ever so sweetly by Katie Lynch as Mrs. Potts (who far outshines Angela Lansbury in the cartoon version) . . . plays a teapot with grace and cheerfulness." – Gerree Hogan Trudeau, Falmouth Enterprise
"Katie Lynch Koglin gives a charming performance… She shines in dance numbers, especially in a comic tango." – Johanna Crosby, Cape Cod Times

"As Marsland's parents, Katie Lynch Koglin and Alexander Colacchio, really shine in their first dance together. This is the kind of couple for whom everyone clears the dance floor." – Gwenn Friss, Cape Cod Times


Roles include:
Miss Andrew, statue, ensemble, Mary Poppins, CCftA
Soprano, The Woods Hole Hit Parade: The Great American Songbook and Beyond, Woods Hole
Meg March, Little Women, Cape Cod Theatre Company
Mrs Gobineau, Menotti's The Medium, FTG
Beggar Woman, Sondheim's Sweeney Todd, FTG
Sarah Brown, Guys and Dolls, BCC
Virtue, Anything Goes, CCFTA
Agnes Clark, Larry Marshland's Panama Club, BCC
Clara, Porgy and Bess: Stories and Music, CFFTA
Princess Winnifred, Once Upon a Mattress, BBC
Caitlin O'Hare, Over the River and Through the Woods, BCC
Sybil, Sullivan & Gilbert – CCFTA
Edith, Pirates of Penznace, FTG
Muriel, On a Clear Day You Can See Forever, BCC
Nancy/Dancer, High Buttoned Shoes, BCC
Baker's Wife, Into the Woods, FTG
Rosemary Pilkington, How to Succeed in Business Without Really Trying, BCC

Mrs. Potts, Beauty and the Beast (Disney), FTG
Agatha Wylie, Smash (based on G .B. Shaw's The Unsocial Socialist), BCC
K. C. Downing, My Favorite Year , BCC
Narrator, Joseph and the Amazing Technicolor Dreamcoat, FTG
Hot Box Girl & Havana Dancer, Guys and Dolls, FTG
Elaine (Follies Girl), Crazy for You, BCC
Queen, Snow White and the Seven Dwarfs, BSFT
Hope and Virtue (dance captain), Anything Goes, BSST
Marion, The Music Man, BHS
Cosette, Les Miserables – concert version, Barnstable High School Show Choir
Ghost of Christmas Past, A Christmas Carol, BHS
Suzie, Babes in Arms, BSST
Alice, Alice in Wonderland, BHS

CCFTA: Cotuit Center for the Arts
BCC: Barnstable Comedy Club
FTG: Falmouth Theatre Guild
BHS: Barnstable High School Drama Club
BSFT: Barnstable Summer Family Theater
BSST: Barnstable Summer School Theater